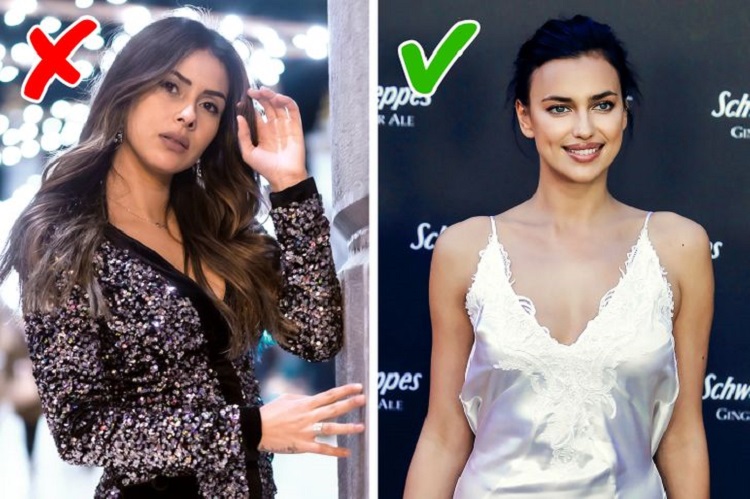 As they say, girls have 2 problems: nothing to put on and nowhere to put things. Probably, every fashionista has many examples when she bought clothes, shoes or accessories, and then put them on a couple of times. This is very disappointing, because we waste our time and money on things that are practically useless.
We at LifePin.net decided to stop this vicious practice and studied the advice of stylists and experts in order to finally stop throwing money down the drain.
1. Things that can be classified as "fast fashion"
There are things that are at the peak of popularity for a short period. They are usually sewn with the latest fashion trends copied for a mass audience. As a rule, these clothes look quite catchy, trying to divert attention from quality with their bright appearance. Clothes from the "fast fashion" category are not the best investment, since there is a possibility that in the next season they will lose either their relevance or a decent look. Experts advise spending your money on better quality, more versatile clothing at a higher yet affordable price. Especially when it comes to serious purchases like outerwear and shoes, and not T-shirts and skirts.
2. Luxurious evening dresses
Luxurious evening and cocktail dresses are very beautiful. But at the same time, there is nothing worse than buying a great expensive thing and wearing it only once, or even leaving it hanging in the closet, because you never had a chance to "walk" it. Stylists agree that it is not worth buying a thing "for a special occasion", it is better to purchase clothes that you will wear regularly. That is, instead of a "New Year" dress in glitter or with a breathtaking neckline, you can choose a certain thing that will become the basis for many images.
3. Panama and "hats in the style of a fisherman"
Hats are a great accessory for almost any season. Moreover, not every hat deserves to take pride of place on your head. For example, bucket hats, or, as they are also called, "fisherman's style hats," have not gone off the list of hot trends lately. Despite the fact that they are actively worn by such stars as Bella Hadid and Rihanna, stylists do not recommend this accessory for purchase. The fact is that it is quite difficult to correctly fit into the image, and only a few will be able to look stylish in such a hat. Instead of such a panama, it is better to pay attention to hats of a different style. In addition, experts predict that wide-brimmed hats will prevail over bucket hats in the future.
4. Hats with decor
With the decor in general and on the headdresses in particular, one main rule applies: do not overdo it. The more rhinestones, sequins and other decorations like ears, the cheaper the thing looks. In addition, items with rich decor are somewhat more difficult to wash – it is important to take care that not a single detail falls off and does not leave unwanted marks on the fabric. At the same time, it is not at all necessary to wear boring hats, you can choose a hat in bright colors, an unusual shape, or combine it with a contrasting scarf or stole.
5. Things of incomprehensible style
Sometimes designers include creativity to the fullest, and as a result we get a thing that is difficult to attribute to any particular style. Whether sporty, or boho, or glamor. A striking example is platform and wedge sneakers and sneakers or a denim jacket trimmed with natural fur. As a result, the buyer does not understand at all how to properly wear such a thing and what to combine it with. So it is more logical and more expedient to choose clothes of a certain stylistic orientation and then skillfully combine wardrobe items in your image.
6. Cheap jeans
Jeans are a basic but versatile piece of wardrobe that can easily help you create multiple, versatile looks. So saving on jeans is not a good idea. At first glance, it may seem that all denim pants look more or less the same and there is no need to choose a more expensive option. However, high-quality jeans will be made from more durable fabric, which means they will fit much better and will not wear out as quickly as their cheap counterparts. This is not a bad investment considering that jeans are a timeless fashion.
7. Synthetic sweaters
When buying any thing, it is important to pay attention to the material from which it is made: in most cases, natural fabrics look more expensive than their cheap counterparts. For example, clothes made of real silk or satin will be distinguished by noble matte tints, while clothes made of artificial materials will shine more quickly. But this problem cannot be compared with 100% synthetic sweaters, which very quickly become covered with pellets and after the first wash lose their presentable appearance. No matter how fashionable and stylish a sweater or jumper looks, if it does not contain natural fibers, then it is not worthy of your attention.
8. Tie-dye clothing
Things in tie-dye colors sometimes left the catwalks, then returned to them again. Today, this print is again relevant, but stylists assure that you should not spend your money on things and accessories with similar patterns. The fact is that tie-dye clothes tend to look overly bright and end up creating an overloaded look, as they are rarely combined with other wardrobe items. So if you want to add a zest to the image, then you can take a closer look at things in less flashy shades, but with an unusual cut.
9. Trendy shoes that are difficult to walk in
The choice of footwear is a very responsible and difficult business. It is important here that both beauty and convenience are combined, and the shoes fit into your wardrobe. Therefore, when choosing the next pair of shoes or ankle boots, you should think carefully not only about her style, but also about your comfort. Investing in trendy shoes that you can only stand or sit in is not the best option. In addition, fashion designers say that if a thing becomes fashionable too quickly, it can go out of it just as quickly. For example, this happened with transparent plastic shoes and chunky designer sneakers.
10. Jumpsuits
A striking example is overalls, which have not gone out of fashion for several seasons. And this is despite all the inconveniences associated, for example, with going to the toilet in public places. Designers assure that this wardrobe item is not worth your money, as it is not suitable for most types of figures. Rather, the jumpsuit will not make any figure more attractive – many of them, especially in denim, look bulky and heavy. Alternatively, you can look at pantsuits – they are more elegant and practical.
11. Clothes of neon shades
Another fashion trend that has not lost its positions for several seasons is clothes in neon shades. On the one hand, such things will help you instantly stand out in any crowd, but on the other hand, are you sure you want to spend money on clothes that you can only wear under strictly defined circumstances? The neon shades still have a rather narrow "scope". Instead, stylists advise paying attention to floral patterns and juicy, but not flashy colors.
12. Snow-white shoes (except sneakers)
At first glance, it may seem that white shoes are versatile and can be combined with anything. It wasn't like that. There are a few pitfalls to consider when shopping for snow-white loafers or shoes. First, your legs should be perfect in appearance, as white creates a contrast to the skin. That is, the smallest bruises, veins, scratches will immediately look much more noticeable. Secondly, snow-white shoes quickly lose their presentable appearance – the slightest creases and cracks are instantly visible on them. As a result, your whole image runs the risk of becoming sloppy. So stylists are advised to choose white shoes only if they are casual or sporty. Even if your sneakers, sneakers or slip-on sneakers are slightly worn, your overall image will not be affected much.
13. Clothes with a patchwork pattern
Recently, in stores more and more things appear that are somewhat reminiscent of a patchwork quilt. These can be sweaters, skirts, dresses. Such wardrobe items look quite catchy and original, but at the same time, fashion experts warn buyers against purchasing them. In their opinion, clothing with a patchwork pattern does not stand the test of time and quickly loses its relevance. So this is not the best waste of money, of course, unless you are a fan of ethnic things.
14. Things of a complex cut
Choosing between a thing with a complex cut and a classic model, experts advise you to stay on the last option. In the history of fashion, there has never been such a case that a coat with an English collar has lost its relevance. And all sorts of newfangled details like voluminous shoulders, basses and wings may go out of fashion by the end of the season. Speaking of coats, capes are worthy of special mention. Stylists say that, despite their extravagance, such capes cannot be considered a bargain. The problem with capes is that only a few will be able to correctly fit them into their image and end up with a finished outfit. The same applies to many other things of a complex cut.
15. Cropped outerwear
Everything is very simple here: if you see several similar models in the store by silhouette, fabric, color, choose the one that is longer. That is, not above the knee, not knee-deep, but below. The fact is that a longer item will look more expensive and stylish. In addition, an elongated coat or raincoat will help create a more elongated silhouette, while short models, on the contrary, can make you wider than you really are.
Do you agree with the opinion of the stylists? Have you made purchases that you later regretted?